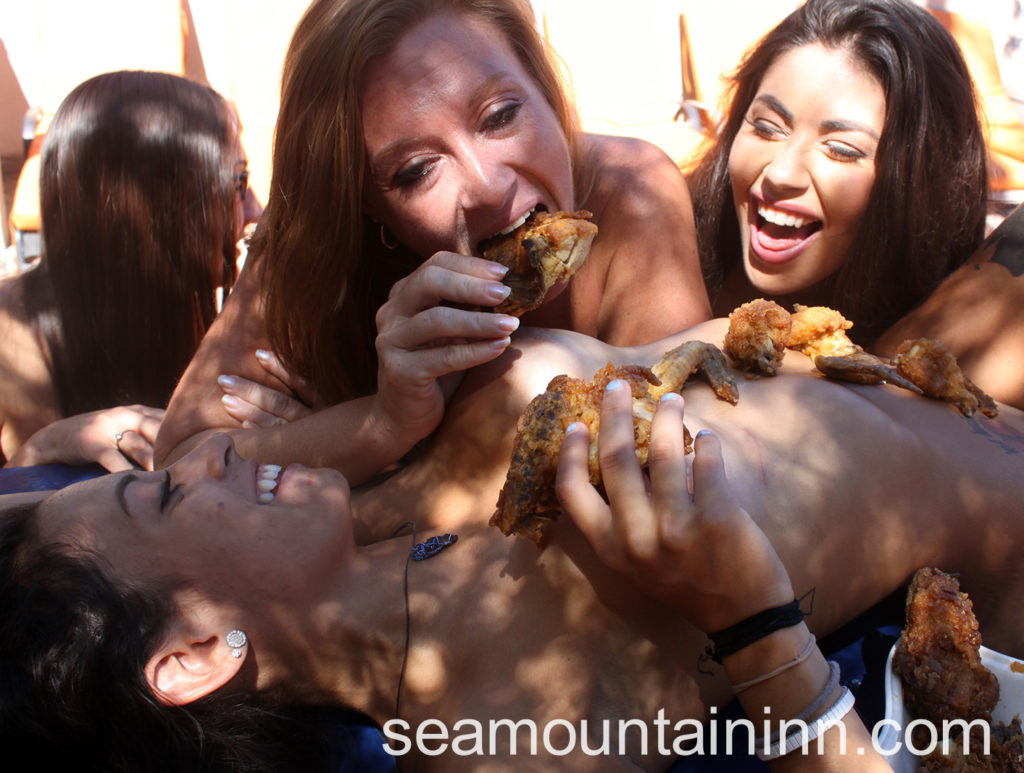 Sea Mountain Dining Catered lovers dinners available. Enjoy a spectacular meal at our Zen nude resort delivered to you.
Sea Mountain Dinner Menu
All Lunch and Dinner meals are delivered directly to your room this month by the awarded Miracle Springs Bistro of Desert Hot Springs California. Enjoy. All orders will include 18% gratuity and a $5.00 delivery charge
Sea Entrees

All entrees include pasta with red sauce

La Filet Mignon 16oz

One of your best tastes ever. Prime aged tenderloin grilled to your perfection big enough for two at 16 ounces, yes, sixteen ounces of the best steak

Chicken and Shrimp Scampi

SMI Santuccis home creation with organic chicken breasts, gulf Shrimp and imported mushrooms in our Marsala Wine Sauce.

Pasta & Sauce

20.00

With our own homemade italian Sausage or Meatballs addWith our own homemade italian Sausage or Meatballs add

6.00

Deweenito Dewio Spaghetti, Angel hair, Linguini, Fettucini or Penne served with Meat, Marinara or Tomato sauce or Ali Olioa.

Sea Mountain Teasers

Shrimp Cocktail

The large Tiger Prawns with secret tangy cocktail sauce and lemon.

Sides

Fries

Side Salad

Baked Potato

Sandbitches

Sea Mountain Burger

A half pound prime beef on toasted bun with your choice of cheese and toppings. Choose from: mushrooms, bacon, onions.

Black Jack

Grilled chicken breast with apples and mozzarella cheese on a croissant with dijonaise dressing and Love.

Meatball Sandwich

Three house made meatballs with marinara, mozzerella cheese on a hoagie roll.

Fresh Deli Sandbitches

Roast Beef

16.00

Turkey

16.00

Corned Beef

16.00

With lettuce, tomato, onion and dill.

You choose the bread: Rye, Wheat, Sourdough, White, 9-Grain
You choose the cheese: Cheddar, Swiss, Provolone, Jack

Salads

The Sea Mountain Valley Harvest Salad

Candied walnuts, dried apricots, dates, cranberries, Gorgonzola cheese crumbles, red onion, fresh apples on romaine and iceberg with honey and cider vinaigrette.

Cobb Salad

Shredded iceburg lettuce topped with diced turkey, diced hard-cooked egg, bacon bits and bleu cheese crumbles, with choice of dressings.

Sea Caesar Salad

15.00

Add grilled chicken

17.00

Add salmon or shrimp

21.00

with imported parmesan cheese

Sea Spinach Salad

Fresh spinach drizzle balsamic vinaigrette, hard boiled organic eggs, sliver red onion and premium bacon bits.

Entrees

The following Sea Mountain Gourmet Meals come with side of house pasta.

New York Hand Cut Steak

12 grilled ounces grilled to your specifications

Rack of Lamb

Salmon Steak

Chicken Paemesan

Breaded chicken breast topped with house tomato sauce and melted fresh mozzarella cheese served over Angel Hair or Penne pastas.

Halibut Dewe the Ocean

Fresh Halibut tender white protein sautéed with butter and our SMI fresh misting lemon juice and parsley.

Chicken Marsala

Chicken breast fresh garlic mushrooms marsala wine and demi glaze choice of angel hair or penne pasta.

SMI Lasagna

Homemade Lasagna layered in meat with our SMI seasoned ricotta warm cheese and fresh mozzarella cheese melted on the top.

Fettuccini Alfredo

22.00

Add grilled chicken

27.00

Same recipe as Alfredos in Rome – Cooked al dente in garlic cream and cheese sauce.

Eggplant Parmesan

Layered with tomato sauce and mozzarella cheese melted on top served with bed of pasta.

Sweet Deserts

Tiramisu

Cannoli

Philly Cheesecake

Chocolate Lovers Cake

Mocha Mud Pie

Ice Cream

Chocolate

9.00

Strawberry

9.00

Vanilla

9.00

Spumoni

9.00
All Lunch and Dinner meals are delivered directly to your room this month by the awarded Miracle Springs Bistro of Desert Hot Springs California. Please place delivery orders at FIVE O'CLOCK EACH EVENING AND THEN ALLOW ONE HOUR FOR DELIVERY - Breakfast included with all overnight stays served from 8:00AM to 10:00AM daily. The Sea Mountain does not sell alcohol products.
Your Private room package price includes:
– Sea Mountain Breakfast daily.
– Unlimited SMI beverages and lunch delivered daily.
– Daily reception.
– 24 hour access to VIP Taboo Gardens club.
– 24 hour access to mineral waters pool and spa.
– Southern California's ONLY 24 hour pool.
(All other pools in the desert seem to close at 7PM
and all winter, these are yours all night).
– Feel the vibe of Jamaica or Cancun's Desire.
– Complimentary DVD library.
– Unlimited iced teas and coffee.
– Full use of all VIP rooms and Spa Areas .
A 5-Point accredited Inn of distinction.
Enjoy Sea Mountain Dining. Day drift in a haze of happiness and completion as you body is soothed and your senses are restored. Sea Mountain is for adults only catering to women and couples. Open to membership for all visits 365 days per year. For the discreet individual, privacy protected. We reserve the right to refuse service to anyone. Whether it is the ultimate in romance or a retreat in thought, activity and recharging, the Sea Mountain has all the relaxed vibe without the distractions. The most private VIP experiences for fun and sun. Contact us Sea Mountain.
Sea Mountain Dining
(dinners) available at at additional cost.